Samvel Chilingarian
Violin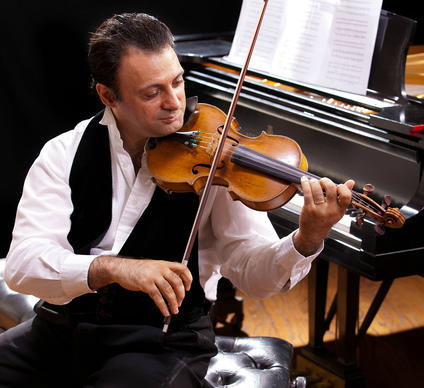 Mr. Chilingarian enjoys a varied career as performer, educator and conductor. An avid chamber musician, Mr. Chilingarian has toured extensively throughout Europe, Japan, the United States and Central America with The Melos Ensemble, Vienna Sinfonietta, Orchestra Internazionaled´Italia, Tashen Oper and Ensemble Nine.
Mr. Chilingarian has performed in such prestigious venues as the Musikverein in Vienna, Teatro di San Carlo in Napoli, Teatro Farnese in Parma, Casals Hall in Tokyo, Birmingham Performing Arts Center in England. As a founding member of the Arioso String Quartet, he has toured Austria giving concerts in Vienna, Krems and Salzkammergut.
A native of Armenia, Mr. Chilingarian began his musical studies at age five. After receiving a Bachelor of Music from the California State University at Northridge and a Master of Music from the University of Missouri at Kansas City, Mr. Chilingarian moved to Vienna in 1990 to continue his studies in authentic performance and conducting. While in Vienna, Mr. Chilingarian joined the Pons Artis Chamber Orchestra, the KammerOper Orchestra, the Niederosterrichische Tonkunstler Orchestra. In 1994 Mr. Chilingarian was invited to conduct the Linz Summer Festival Youth Orchestra.
Since his return to L.A., Mr. Chilingarian´s focus has been to bring spirited and passionate music to young musicians. Mr. Chilingarian is the Artistic Director and conductor of Verdugo Young Musicians Association (VYMA). In 2007, VYMA was invited by the Los Angeles Philharmonic to perform at Walt Disney Concert Hall as part of the International Youth Orchestra Festival. In 2008 Mr. Chilingarian actively participated with the Los Angeles Philharmonic YOLA initiative, as guest speaker and panelist.
Mr. Chilingarian has been featured on the Sundays Live radio broadcast Classical 105.1 K-Mozart as well as on 91.5 KUSC "Spotlight on The Arts". Mr. Chilingarian serves on the faculty of East Los Angeles College and continues to perform with the Elixir Piano Trio.